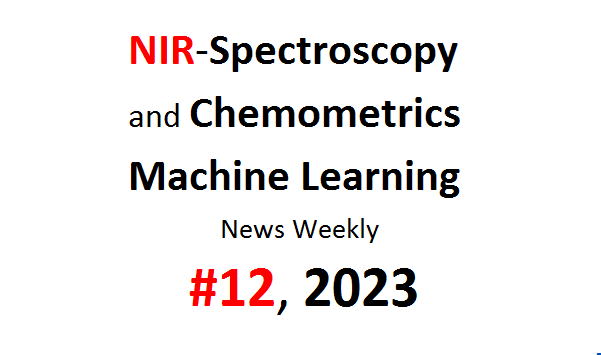 Get the Spectroscopy and Chemometrics News Weekly in real time on Twitter @ CalibModel and follow us.
NIR Calibration-Model Services
Spectroscopy and Chemometrics News Weekly 11, 2023 | NIRS NIR Spectroscopy MachineLearning Spectrometer Spectrometric Analytical Chemistry Chemical Analysis Lab Labs Laboratories Laboratory Software IoT Sensors QA QC Testing Quality LINK
Spektroskopie und Chemometrie Neuigkeiten Wöchentlich 11, 2023 | NIRS NIR Spektroskopie MachineLearning Spektrometer IoT Sensor Nahinfrarot Chemie Analytik Analysengeräte Analysentechnik Analysemethode Nahinfrarotspektroskopie Laboranalyse LINK
Spettroscopia e Chemiometria Weekly News 11, 2023 | NIRS NIR Spettroscopia MachineLearning analisi chimica Spettrale Spettrometro Chem IoT Sensore Attrezzatura analitica Laboratorio analisi prova qualità Analysesystem QualityControl LINK
Near-Infrared Spectroscopy (NIRS)
"Application of UV-VIS-NIR spectroscopy in membrane separation processes for fast quantitative compositional analysis: A case study of egg products" LINK
"Non-Destructive Detection of Meat Quality Based on Multiple Spectral Dimension Reduction Methods by Near-Infrared Spectroscopy" LINK
" … Discrimination of Sunflower Seeds with Different Internal Mildew Grades by Fusion of Near-Infrared Diffuse Reflectance and Transmittance Spectra …" | LINK
"Improved Soil Organic Carbon Prediction in a Forest Area by Near-Infrared Spectroscopy: Spiking of a Soil Spectral Library" | LINK
"Application of Near Infrared Spectroscopy to Monitor the Quality Change of Sour Cherry Stored under Modified Atmosphere Conditions" | LINK
"Foods : Evaluating the Use of a Similarity Index (SI) Combined with near Infrared (NIR) Spectroscopy as Method in Meat Species Authenticity" | LINK
Infrared Spectroscopy (IR) and Near-Infrared Spectroscopy (NIR)
"Prediction of quality traits in dry pepper powder using visible and near-infrared spectroscopy" LINK
"Pendugaan Kandungan Kimia Minyak Goreng Menggunakan Near Infrared Spectroscopy" LINK
Hyperspectral Imaging (HSI)
"Hyperspectral image-based measurement of total flavonoid content of leaf-use Ginkgo biloba L." LINK
"Visual Monitoring of Fatty Acid Degradation during Green Tea Storage by Hyperspectral Imaging" | LINK
"Combination of hyperspectral imaging and entropy weight method for the comprehensive assessment of antioxidant enzyme activity in Tan mutton" LINK
"Raw Beef Patty Analysis Using Near-Infrared Hyperspectral Imaging: Identification of Four Patty Categories" LINK
"Structure and near-infrared spectral properties of mesoporous silica for hyperspectral camouflage materials" | LINK
"Deep Spectral-Spatial Features of Near Infrared Hyperspectral Images for Pixel-Wise Classification of Food Products" | LINK
Spectral Imaging
"Nutritional monitoring of boron in Eucalyptus spp. in the Brazilian cerrado by multispectral bands of the MSI sensor (Sentinel-2)" LINK
Chemometrics and Machine Learning
"Sensors : A Chemiresistor Sensor Array Based on Graphene Nanostructures: From the Detection of Ammonia and Possible Interfering VOCs to Chemometric Analysis" | LINK
"Metabolites : Comprehensive Metabolomic Fingerprinting Combined with Chemometrics Identifies Species- and Variety-Specific Variation of Medicinal Herbs: An Ocimum Study" | LINK
"Sex classification of silkworm pupae from different varieties by near infrared spectroscopy combined with chemometrics" | LINK
"Evaluation of Optimized Preprocessing and Modeling Algorithms for Prediction of Soil Properties Using VIS-NIR Spectroscopy" | LINK
"Development of nondestructive models to predict oil content and fatty acid composition of Gomenzer (Ethiopian mustard) using nearinfrared reflectance spectroscopy" LINK
"Remote Sensing : Hyperspectral Inversion Model of Relative Heavy MetalContent in Pennisetum sinese Roxb via EEMD-db3 Algorithm" LINK
"Develop Non‐Destructive Models to Predict Oil Content and Fatty Acid Composition in Gomenzer (Ethiopian Mustard) Using Near‐Infrared Reflectance Spectroscopy" LINK
Optics for Spectroscopy
"ChalcogenideBased Narrowband Photodetectors for Imaging and Light Communication" LINK
AI News
Is today an AI day? – Google opens up their Bard LLM. – NVIDIA launches cloud tools for Generative AI. – Adobe announces Firefly, an AI image creator. – Microsoft unveils Bing Image Creator. LINK
Research on Spectroscopy
"Polymers : The Potential of Visible Spectroscopy as a Tool for the In-Line Monitoring of Lignin Methylolation" | LINK
Environment NIR-Spectroscopy Application
"Remote Sensing : Mineral Prospectivity Mapping of Porphyry Copper Deposits Based on Remote Sensing Imagery and Geochemical Data in the Duolong Ore District, Tibet" | LINK
"Future/Emerging Soil Issues" | LINK
Agriculture NIR-Spectroscopy Usage
"Animals : Lipid Characteristics of the Muscle and Perirenal Fat in Young Tudanca Bulls Fed on Different Levels of Grass Silage" | LINK
"Agronomy : Estimation of Relative Chlorophyll Content in Spring Wheat Based on Multi-Temporal UAV Remote Sensing" | LINK
"Biosynthesis of Melanin Nanoparticles for Photoacoustic Imaging Guided Photothermal Therapy" LINK
"Agriculture : The Effect of Enzyme Activity on Carbon Sequestration and the Cycle of Available Macro- (P, K, Mg) and Microelements (Zn, Cu) in Phaeozems" | LINK
"Near infrared spectroscopy for fast characterization of animal by products feedstocks for biogas production: Calibration of a handheld device" LINK
Food & Feed Industry NIR Usage
"Rapid determination of protein, starch and moisture contents in wheat flour by near-infrared hyperspectral imaging" LINK
Laboratory and NIR-Spectroscopy
"Analytical strategies for herbal Cannabis samples in forensic applications: A comprehensive review" LINK
"Substituent Controllable Assembly of Anthracene Donors and TCNQ Acceptors in Charge Transfer Cocrystals" LINK
.