Our Service is different
We build the optimal quantitative prediction models for your NIR analytical needs (No need for mathematical/statistical model building software usage at your site).
The NIR-Predictor software and the calibration models are at your site. No internet connection needed to our service. You can do unlimited predictions, that allows fast measurement cycles with no extra cost (Not payed per prediction).
You own your NIR + Lab data and the calibrations. You can have access to the detailed Calibration Report with all the settings and statistics (No Black-Box Models).
Get NIR Calibrations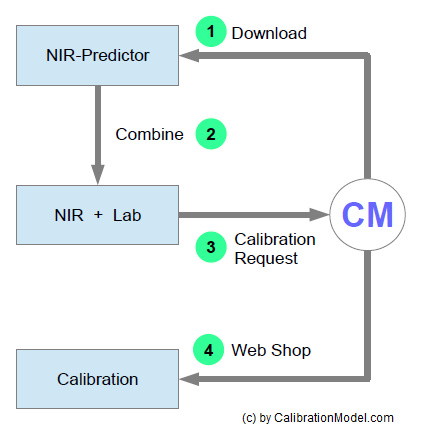 Your 4 steps to the applicable NIR calibration:
Use NIR Calibrations

see more Videos
In other words
Calibration Model simplifies the process of training machine learning models for NIRS data while providing an opportunity to trying different algorithms and applied near-infrared spectroscopy (NIRS) knowledge. It's more than an AutoML platform, it's a full service where you can download the optimal model and its describing Calibration Report that provide insights into the data preparation, feature engineering, model training, and hyperparameter tuning.
Start Calibrate