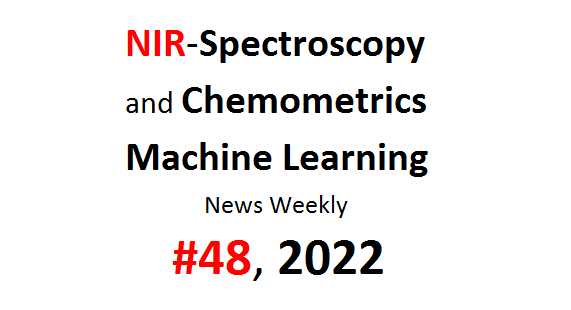 This week's NIR news Weekly is sponsored by Your-Company-Name-Here – NIR-spectrometers. Check out their product page … link
Get the Spectroscopy and Chemometrics News Weekly in real time on Twitter @ CalibModel and follow us.
NIR Calibration-Model Services
Spectroscopy and Chemometrics News Weekly 47, 2022 | NIRS NIR Spectroscopy MachineLearning Spectrometer Spectrometric Analytical Chemistry Chemical Analysis Lab Labs Laboratories Laboratory Software IoT Sensors QA QC Testing Quality LINK
Spektroskopie und Chemometrie Neuigkeiten Wöchentlich 47, 2022 | NIRS NIR Spektroskopie MachineLearning Spektrometer IoT Sensor Nahinfrarot Chemie Analytik Analysengeräte Analysentechnik Analysemethode Nahinfrarotspektroskopie Laboranalyse LINK
Spettroscopia e Chemiometria Weekly News 47, 2022 | NIRS NIR Spettroscopia MachineLearning analisi chimica Spettrale Spettrometro Chem IoT Sensore Attrezzatura analitica Laboratorio analisi prova qualità Analysesystem QualityControl LINK
Near-Infrared Spectroscopy (NIRS)
"Deep learning near-infrared quality prediction based on multi-level dynamic feature" LINK
"Rapid measurement of classification levels of primary macronutrients in durian (Durio zibethinus Murray CV. Mon Thong) leaves using FT-NIR spectrometer and …" LINK
"Non-destructive study on identifying and monitoring of Cu-Pb pollution in corn based on near-infrared spectroscopy" | LINK
"PSVI-6 Predicting Fecal Composition Using Near Infrared Spectroscopy (Nirs): Expanding the Calibration to Include Grazing Beef Samples" LINK
"Predictions of multiple food quality parameters using near-infrared spectroscopy with a novel multi-task genetic programming approach" LINK
"… of Polysaccharide Content in Shiitake Culinary-Medicinal Mushroom, Lentinula edodes (Agaricomycetes) via Near-Infrared Spectroscopy Integrated with Deep …" LINK
"Redundancy Analysis to Reduce the High-Dimensional Near-Infrared Spectral Information to Improve the Authentication of Olive Oil" LINK
"Nondestructive evaluation of SW-NIRS and NIR-HSI for predicting the maturity index of intact pineapples" LINK
"Near-Infrared Spectroscopy for Bladder Monitoring: A Machine Learning Approach" | LINK
"Before reliable near infrared spectroscopic analysis-the critical sampling proviso. Part 2: Particular requirements for near infrared spectroscopy" LINK
"Adaptive Artificial Neural Network in near infrared spectroscopy for standard-free calibration transfer" LINK
"NEAR-INFRARED SPECTROSCOPY AS A GREEN TECHNOLOGY TO MONITOR COFFEE ROASTING" | LINK
"Automatic Neural Network Hyperparameter Optimization for Extrapolation: Lessons Learned from Visible and Near-Infrared Spectroscopy of Mango Fruit" LINK
"An approach to detecting diphenylamine content and assessing chemical stability of single-base propellants by near-infrared reflectance spectroscopy" LINK
"Efficiency of near-infrared spectroscopy in classifying Amazonian wood wastes for bioenergy generation" LINK
"Rapid Detection of Cement Raw Meal Composition Based on Near Infrared Spectroscopy" | LINK
"Foods : Discrimination of Minced Mutton Adulteration Based on Sized-Adaptive Online NIRS Information and 2D Conventional Neural Network" LINK
"NIR-based models for estimating selected physical and chemical wood properties from fast-growing plantations" LINK
"Sensors : Domain Adaptation for In-Line Allergen Classification of Agri-Food Powders Using Near-Infrared Spectroscopy" LINK
"Improper sample preparation negatively affects near infrared reflectance spectroscopy (NIRS) nutrient analysis of ground corn" LINK
"Water : Discrimination of Chemical Oxygen Demand Pollution in Surface Water Based on Visible Near-Infrared Spectroscopy" LINK
"Molecules : Detecting Aflatoxin B1 in Peanuts by Fourier Transform Near-Infrared Transmission and Diffuse Reflection Spectroscopy" LINK
"Performance Evaluation of Pre-Processing and Pre-Treatment Algorithm for Near-Infrared Spectroscopy Signals: Case Study pH of Intact Mango "Arumanis"" LINK
"Near infrared spectroscopy for blend uniformity monitoring: An innovative qualitative application based on the coefficient of determination" LINK
"Enhancing Near Infrared II Emission of Gold Nanoclusters via Encapsulation in Small Polymer Nanoparticles" LINK
"Denoising stacked auto-encoder-based near-infrared quality monitoring method by evaluating robust samples" LINK
"A High-efficiency Blue-LED-excitable NIR-II-emitting MgO: Cr3+, Ni2+ Phosphor for Future Broadband Light Source toward Multifunctional NIR Spectroscopy …" LINK
"Investigating if an arm lift procedure is capable of highlighting aging-related differences in microvascular function, using Near-infrared Spectroscopy" LINK
"Use of near-infrared spectroscopy for the classification of medicinal cannabis cultivars and the prediction of their cannabinoid and terpene contents" LINK
"Implication of phenol red in quantification of cultured cancerous cells using near-infrared spectroscopy and aquaphotomics" LINK
"Quantitative analysis of near infrared spectroscopic data based on dual-band transformation and competitive adaptive reweighted sampling" LINK
"Feasibility of near-infrared spectroscopy and chemometrics analysis for discrimination of Cymbopogon nardus from Cymbopogon citratus" LINK
"… of Wet and Dry Mechanochemical Syntheses of Calcium-Deficient Hydroxyapatite Containing Zinc Using X-ray Diffractometry and Near-Infrared Spectroscopy" LINK
Infrared Spectroscopy (IR) and Near-Infrared Spectroscopy (NIR)
"ATRFTIR spectroscopy and chemometric complexity: Unfolding the intraskeleton variability" LINK
"A seleniumsubstituted heptamethine cyanine photosensitizer for nearinfrared photodynamic therapy" LINK
"Identification studies of Escherichia coli using FTIR profiles and strain typing by principal component analysis" LINK
Hyperspectral Imaging (HSI)
"Performance review of a UV/vis/IR fluorescence hyperspectral camera to detect contamination on spacecraft during integration" LINK
"NAPPN Annual Conference Abstract: Hyperspectral imaging for non-destructive determination of cannabinoids in floral and leaf materials of industrial hemp" LINK
" A preliminary investigation into the automatic detection of diseased sheep organs using hyperspectral imaging sensors" LINK
"Recent advances in muscle food safety evaluation: Hyperspectral imaging analyses and applications" LINK
"Fusion of hyperspectral and multispectral images based on principal component analysis and guided bilateral filtering" | LINK
"Performance review of a UV/vis/IR fluorescence hyperspectral camera to detect contamination on spacecraft during integration" | LINK
Spectral Imaging
"Remote Sensing : Evaluation of the Influence of Field Conditions on Aerial Multispectral Images and Vegetation Indices" LINK
Chemometrics and Machine Learning
"Nondestructive determination of grass pea and pea flour adulteration in chickpea flour using nearinfrared reflectance spectroscopy and chemometrics" LINK
"Prediction of the proximate analysis parameters of refuse-derived fuel based on deep learning approach" | LINK
"Evaluation of data pre-processing and regression models for precise estimation of soil organic carbon using Vis-NIR spectroscopy" | LINK
"ResNet models for rapid identification of species and geographical origin of wild boletes from Yunnan, and MaxEnt model for delineation of potential distribution" LINK
"Prediction of winter wheat leaf chlorophyll content based on VIS/NIR spectroscopy using ANN and PLSR" LINK
"Vis-NIR spectroscopy coupled with machine learning algorithms to predict soil gypsum in calcareous soils, southern Iran" LINK
Optics for Spectroscopy
"Architecture of FTO/n-CdS/p-SnSe1-xOx/Au Heterojunction Thin Film Diodes by Thermal Evaporation" | LINK
Equipment for Spectroscopy
"Polymers : Comparative Thermo-Mechanical Properties of Sustainable Epoxy Polymer Networks Derived from Linseed Oil" LINK
Environment NIR-Spectroscopy Application
"Developing spectrotransfer functions (STFs) to predict basic physical and chemical properties of calcareous soils" LINK
Agriculture NIR-Spectroscopy Usage
"Assessment of crop traits retrieved from airborne hyperspectral and thermal remote sensing imagery to predict wheat grain protein content" LINK
"158 Predicting Intake and Digestibility of Nutrients in Beef Cattle fed High Forage Diets Using Near Infrared Spectroscopy (Nirs) of Feces and Internal Markers" LINK
"Wheat leaf disease identification based on deep learning algorithms" | DeepLearning MachineLearning CropDisease Crop LINK
"Early Hemodynamic Response to Single-Pulse Transcranial Magnetic Stimulation Following Previously Inhibited or Excited Motor Cortex" LINK
"Investigation of growth, optical, thermal, mechanical, electrical, laser damage threshold properties of 1, 2, 3-Benzotriazolium Dihydrogen Phosphate (BTDHP) single …" | LINK
Horticulture NIR-Spectroscopy Applications
"Near-Infrared Model and Its Robustness as Affected by Fruit Origin for 'Dangshan'Pear Soluble Solids Content and pH Measurement" LINK
Food & Feed Industry NIR Usage
"Classification of chocolates by multivariate methods in THz spectroscopy" LINK
Pharma Industry NIR Usage
"Application of fast non-invasive solid state analysis on counterfeit tracing of pharmaceutical drug excipients" LINK
Medicinal Spectroscopy
"Review of Advances in the Measurement of Skin Hydration Based on Sensing of Optical and Electrical Tissue Properties" LINK
.